Companies in Texas need to act now to minimize the impact of high natural gas prices on their electricity bills.
---
TL;DR
Companies in Texas face higher electricity bills from soaring natural gas prices and record exports.

High temperatures and operational changes by Texas' system operator are boosting gas demand and electricity usage.

Natural gas prices are expected to remain high through the summer of 2023—companies need to act now to rein in costs.
---
Texas doesn't have enough natural gas—which is surprising, but 2022 has been full of surprises for the energy sector.
The Lone Star State is the largest U.S. natural gas producer, responsible for 25 percent of production. Despite this, Texas is facing a natural gas shortage, as rising exports to Europe dovetail with summer heat to create record demand for gas (both for cooling and electricity generation).
The war in Ukraine and high electricity use due to hot weather has caused natural gas prices to jump significantly. Specifically, prices more than doubled since May 2021, reaching $8.37 per million British thermal units (MMBTUs) on August 1, 2022.
This is a big issue for Texas' grid, because natural gas comprises 44 percent of the state's generating capacity and sets the market rate.
Consequently, the average retail electricity price for commercial users rose 23.4 percent between January 2021-May 2022. Industry has been hit even harder, with industrial electricity prices jumping 58 percent during the same period.
Unfortunately Texans' electricity bills are getting bigger, especially as generators and exporters increasingly compete for natural gas supplies in the coming months. Companies that invest in energy efficiency assets will avoid these high prices.
Natural gas exports pushing up prices for companies in Texas
Texas is ramping up natural gas exports to help Europe wean itself from Russian gas, but the state has been outpaced by the rate of export growth.
"We've seen Texas' gas go over to Europe, which has then created a supply issue locally," explains Corey Kuchinsky, CFO at CPS Energy. Consequently, stored natural gas levels in Texas are sitting 17 percent lower than average. Indeed, U.S. natural gas exports to Europe already surpassed Russian deliveries to the region in June 2022.
The extent of U.S. export growth is unprecedented—America overtaking Russia in natural gas deliveries to Europe (and in a short time) is an incredible development.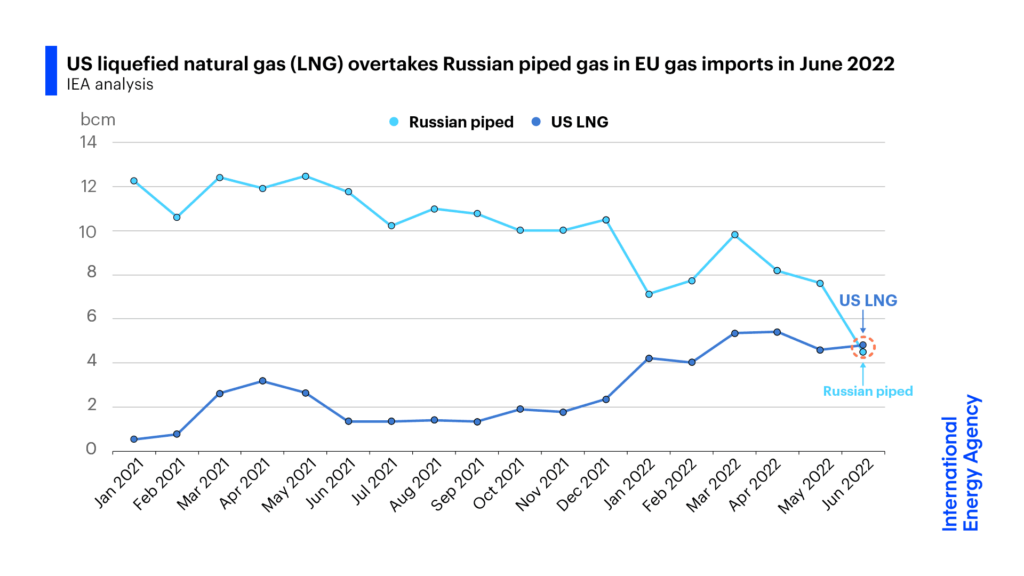 ---
This is particularly important for companies in Texas since natural gas demand in the electricity and industrial sectors is set to increase, according to the Energy Information Administration (EIA). And demand will only further increase once Texas' Freeport liquified natural gas (LNG) export facility comes back online.
Freeport is responsible for 20 percent of American LNG exports, and will greatly speed up deliveries to Europe, a trend that will only increase during winter as heating demand rises. The facility—which shut down in June due to an explosion—is slated to restart in October and hit full export capacity by December.
Overall, businesses and generators in Texas will have to increasingly compete with exporters for gas. On the other hand, the state's renewables capacity almost equals that of natural gas, helping take some of the sting out of prices.
"Texas has this whole mythology around cheap gas and prosperity, and those days are clearly over—[right now] wind and solar are saving our wallets," says energy consultant Alison Silverstein.
Even with renewables helping to cut costs, the EIA forecasts natural gas prices to remain at or above $6 per MMBTU through the first half of 2023. For comparison, natural gas traded between $2–3 per MMBTU for most of the last decade.
Weather and wariness are raising electricity prices in Texas
The surge in natural gas exports is only the latest factor raising electricity prices in Texas. Extreme weather has repeatedly pushed the grid to its breaking point in recent years.
The 2021 ice storm caused $24 billion in damages and bankrupted some energy companies. Consequently, Texan companies are paying for $7 billion worth of rate-payer backed bonds that were issued to bail out utilities after the storm.
Lingering damage from the ice storm and a hotter than normal spring caused six natural gas generators to fail in May. The outage saw 2,900 megawatts (MW) drop off the grid, causing blackouts and sending spot prices (the real-time price that changes every five minutes) to $5,000 per megawatt hour (MWh). This means it costs a factory $5,000 rather than $250 like it normally would to operate for an hour.
Public outcry over blackouts means ERCOT is no longer prioritizing cheap power for Texans, according to Peter Lake, head of the Public Utility Commission. Instead, ERCOT is taking a more conservative approach to minimize outages by keeping more generators running for longer, regardless of load, in a bid to improve reliability.
ERCOT is no longer prioritizing cheap power for Texans. Doubling down on energy efficiency requires access to flexible funding. Companies need to move fast to avoid expensive electricity bills from high natural gas prices.
This focus on reliability has benefits, but de-emphasizing affordability leads to more costs for businesses. "We've never seen prices this high," says Tim Morstad, associate state director for the Association of Electric Companies (AARP) of Texas. "There's going to be some real sticker shock here."
In short, more natural gas will be needed to keep up with demand and ensure reliability.
Businesses in Texas have been used to cheap gas for too long, with sustainability often taking a back seat. Surging electricity prices means it's "a good time to double down on energy efficiency," says Doug Lewin, President of Austin-based Stoic Energy LLC.
In 2005, Texas committed to building 10 gigawatts (GW) of renewable capacity by 2025. This would save Texans $5.4 billion through 2025. In 2009, the state exceeded 10 GW, with 41 GW of capacity in 2021—well beyond the original commitment.
The project was a success; ERCOT customers actually saved $5.7 billion from 2010–2017 alone. Savings were so substantial that the city of Georgetown (pop: 50,000) switched to 100 percent clean energy in 2017 because it was the least-expensive option.
Similarly, West Texas A&M University implemented a $14.4 million retrofit project, including LED lighting upgrades, extensive sub-metering, and a new building management system (among other improvements). The university now enjoys $1.1 million in annual savings.
Texas Mutual Insurance Company's 285,000 square foot headquarters is also reaping the benefits of clean technology. Upgrades including a LED lighting retrofit and highly insulated envelope reduced energy costs by 44 percent.
Doubling down on energy efficiency requires access to flexible funding. Companies need to move fast to avoid expensive electricity bills from high natural gas prices.
How EnPowered helps companies in Texas move quick and save more
Natural gas prices are expected to remain high through 2023, so businesses in Texas need to act quickly to reduce usage. When it comes to energy, accepting the status quo only leads to higher costs and missed savings.
Companies that haven't implemented energy efficiency solutions will be hardest hit by rising prices. Businesses face challenges in accessing the funding they need to avoid these costs. Making funding more accessible gets more projects off the ground and captures more savings.
As such, minimizing risk and providing access to an on-bill payments solution are essential to capturing these savings.
EnPowered Payments helps clean technology solution providers close more deals and help their customers save at the same time. Payments empowers customers to pay for projects (with no upfront costs) with a portion of their energy savings through their electricity bill.
Interested in learning more? Reach out today to explore how EnPowered helps you close more deals in Texas.