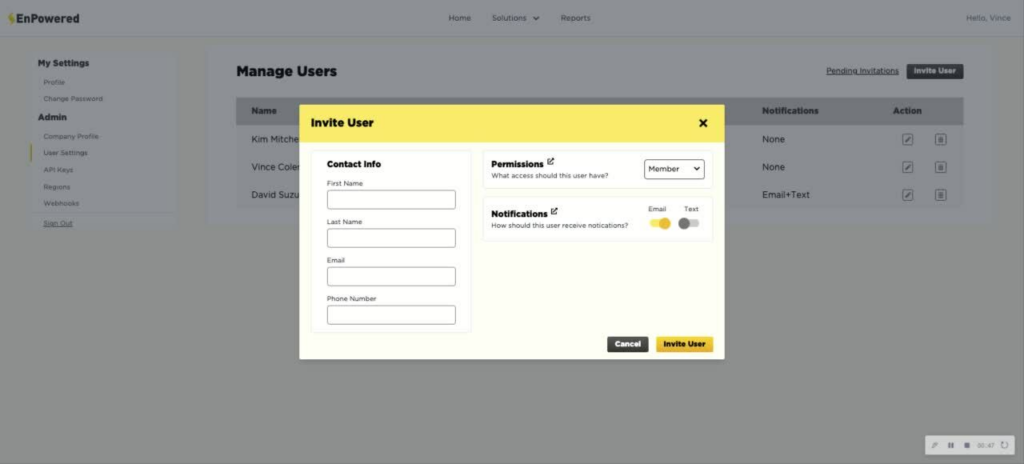 To invite a user to your company's portal, you must be listed as an 'Admin'.
When logged into the portal, navigate to the top right-hand corner where you see your name. This will take you to your company's profile. On the left-hand side under 'Admin', select 'Users Settings'. This will populate a list of all current portal users. Above this you will see an 'Invite User' button; select this. This will take you to a popup to complete the user invitation form.
Under 'Contact Info' enter the user's first and last name, followed by email and phone number where they would like to receive notifications. Phone numbers must start with a "+1" and be followed by ten digits with no special characters, like dashes or parentheses. Please ensure that both phone numbers and emails are correct; if they are not, the user will not receive notifications from EnPowered.
To the right, you will see 'Permissions' and 'Notifications'. There are two levels of permissions, 'Admin' and 'Member'. Admins can change the company's settings, invite users, change user's notification settings, and get access to EnPowered's APIs and Webhooks. Members can only edit their profile and change passwords. Both Members and Admins will receive notifications.
Under 'Notifications' you will see an email and text toggle. This is where you can select the type(s) of notifications that the user you are inviting will receive. When the selected notification type is set to ON, it will be toggled to the right and highlighted yellow. When the notification is set to OFF, it will be toggled to the left and appear gray. It is important to note that unless you give this user Admin permissions, they will not be able to change their notifications settings themselves. Only Admins can change theirs and other users notifications settings.
Once the contact info, permissions and notifications have been set, then select 'Invite User'. They will be sent an email from EnPowered inviting them to create a portal account. Users will then be promoted to enter their name, email, and phone number, before they can proceed into the portal.
Invited users must login and reset their password to start receiving notifications. If they do not, they will not receive any notifications from EnPowered.