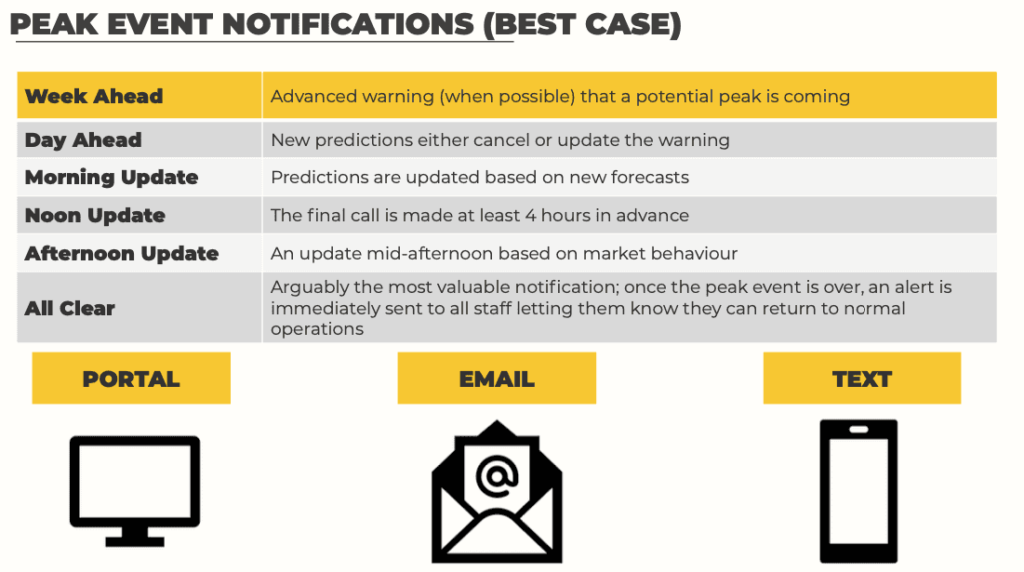 Our peak notification system utilizes three different notification methods: your EnPowered Portal, email, and text messages. The portal dashboard will display notifications based on the peak forecast for the current week.
Email and text notifications will be sent directly to all users, depending on their individual user notification settings (see Enabling Notifications for more info on setting user notifications).
EnPowered will send a notification one week before a potential peak.
You will also receive a notification the day prior to the potential peak, with updated information regarding the peak event.
On the day of the potential peak, you will receive four notifications: a morning, noon, afternoon (pre-peak), and an 'all clear' notification:
---
The morning notification will generally be sent around 8:00 a.m. with updated information on the forecasted peak.
The noon notification will be sent at least four hours before the peak, and is considered the 'final call,' in that EnPowered will state if the day's potential peak will materialize as a called peak.
A following notification is sent mid-afternoon updating you on the coming peak and any new information. This notification will include the peak hour and window.
The last notification you will receive on the day of the peak is the 'all-clear' notification. This alerts you that the peak event is now over, and you can resume normal operations.
It is important to note that notification timelines can vary depending on peak forecasts. EnPowered tries to follow the notification timeline listed above, but during peak season, peaks can materialize on short notice. In these events, EnPowered will do its best to notify you as soon as we have enough information to give an accurate forecast of the potential peak.
Below is an example of a notification that was sent to our Ontario (ICI) customers, notifying them that that current day's potential peak would not be a called peak. This was a noon update email notification.